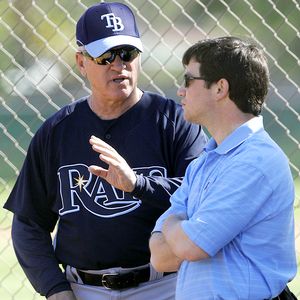 This excellent blog
post from Beyond the Boxscore got me thinking tonight. It is actually pretty offensive how much time the media is spending crediting the Rays' turnaround to a ****ing manager instead of the man who rebuilt the team, Andrew Friedman. I'm not sure if it's an aversion to what is, essentially, "new-fangled"
Moneyball
stuff, and they don't want to admit it's working, or if it's because they see a baseball guy and think that must be the reason they're winning, or if it's because it's a better story, or if they just really are that clueless. But tonight I'll be watching the game and the pre-game and the post-game, and I'll keep track of how many times they credit Joe Maddon and how many times they credit Andrew Friedman.
And any other nonsense they spout.
UPDATE: I wrote an entire commentary on how TBS chose to suck off Chuck Lamar for a good 15 minutes without once mentioning Friedman, but the internet screwed me.
I will be voting for whichever presidential candidate promises to make the internet more like a big truck.